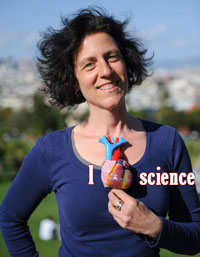 Discovery Street Tours is the brainchild of science writer and urban explorer Robin Marks, and D-Street is where her professional expertise and personal passions coalesce. Her reputation as an explorer began when she was a baby, crawling her way into crevices that sometimes gave her parents a fright. As a child, she preferred biology and astronomy books to fairy tales and barbies. She fashioned her own experiments with plastic, ice, wax, and matches and nearly set the house on fire. In college, she became a biochemist. She delighted in geek jokes ("Heisenberg may have been here"), but found the practice of science somewhat stoic. When her first published paper came back from peer review with the commentary "too creative," she took it as a sign she should get out of the lab.
She has since worked for many years as a writer and reporter, and spent eight years at various NPR outlets around the country, as well as at news organizations abroad. In 2000, she began a decade at the Exploratorium, where she had the honor of working with and learning from some of the best science teachers in the world. She produced public programs, developed websites, and wrote about all manner of science phenomena for the museum. Robin regularly gets her geek via her broader business, Discovery Street Science, crafting high school science curricula, writing about science research for UCSF and UC Berkeley, tutoring biology and chemistry, and hosting Science Trivia contests. She is also immediate past-president of the Northern California Science Writers' Association, and remains an active board member..
An avid cyclist, Robin has met nearly every hill grade, vista point, and pothole in the city while devising routes for rec rides she has led for the San Francisco Bicycle Coalition since 2002 (including her famous annual Holiday Lights Ride). She is also a member of Walk San Francisco, and is proud of the work both organizations do to make it easier for San Franciscans to safely get out of their cars and onto the streets and sidewalks of their communities.
Most of all, Robin delights in fostering people's curiosity, helping them discover the world's everyday wonders, and showing them the secrets of this endlessly inspiring city that she calls home.