A Discovery Street tour is a one-of-a-kind experience of San Francisco. Get your hands on the science of everyday life and stroll hidden alleyways and breathtaking vistas with other folks like yourself—curious, active, and a little beyond the ordinary.
Fa La La La Photons!
The Science of (Holiday) Light
A seasonal stroll for inquisitive souls
6:30 – 8:00
Dec. 19, 20, 21, 25, and 26 official tour



Buy tickets!

Join us on our festive seasonal trek! Stroll San Francisco stairways, side streets, and scenic vistas, admiring the local holiday handiwork while experimenting with color mixing and animation, and talking about light. Learn about the history of holiday lights, enjoy some seasonal treats, and bask in the glow that lights the winter's night.
Reinvent yourself for New Year's!
Invented in San Francisco
History in the city of innovation
1:00 – 3:30
Jan. 1, 2015



Buy tickets!
Some of the world's most influential inventions were dreamed up by San Franciscan tinkerers. Explore seven surprising stories of innovationfrom tech to tunes to treatsthat exemplify San Francisco as a hotbed of creative thinking for nearly two centuries. We'll investigate the science behind some of these inventions, stroll to stellar views and historic neighborhoods, and test our own powers of perception.
Illuminate the Arts SF Tours
Visit light art installations throughout the city
(in partnership with the San Francisco Travel Association)

• Wed., Dec. 3
– Illuminate SF Light Art Walking Tour (visiting installations in Central Market and SoMa with guest artists)
RSVP now!
• Thurs., Dec. 4
– Illuminarts Walk in partnership with Black Rock Arts Foundation (visiting installations with guest artists in North Beach, Telegraph Hill, Embarcadero)
RSVP now!
• Thurs., Dec. 11
– Illuminate SF Light Art Cable Cart Tour (visiting installations and artist studios with guest artists in the Bayview)
RSVP now!
• Thurs., Dec. 27

– Illuminate Your Ride: Light Art Bike Tour bike (visiting six installations in SoMa, North Beach, and Embarcadero)
RSVP now!
Read more details about these tours
All D-Street tours are available as private group tours, contact us to set up a stroll! robin at DiscoveryStreetTours.com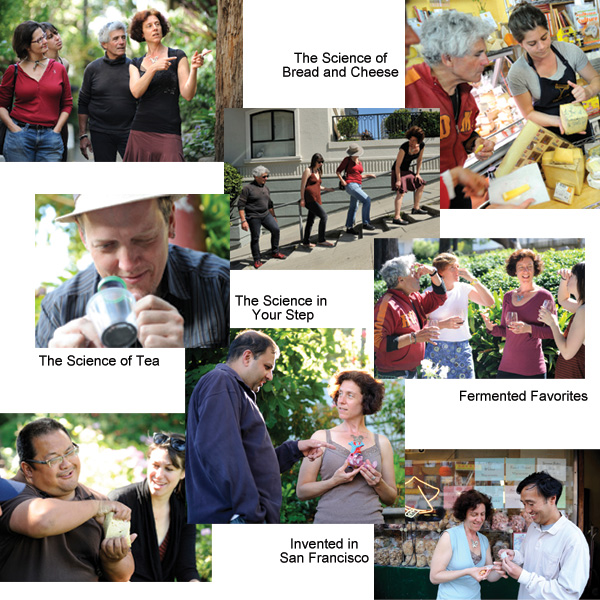 What tours do we offer? Explorations of the science of cheese, wine, geology, invention, and walking! Check out our tours page for details and upcoming dates.
We also do private tours for teambuilding events, weddings, birthdays, family gatherings, alumni associations and just plain celebrating friendships. Call us at 415-663-6768 or email robin@DiscoveryStreetTours.com to book a tour.
We also do several public tours per month. Join our mailing list and be the first to hear about them!
See you on the streets!