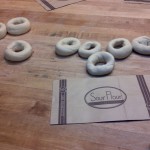 Last Sunday, I did my second bread workshop given by Sour Flour. Sour Flour does what I call "breaducation," teaching ordinary folks like me more about what's going on in bread baking, and also training professional bakers. "Building community through bread," says their website.
I love that idea: bread is more than just a food. We call it the staff of life. We look forward to the chance to break bread together. Our new discoveries are the best thing since sliced bread. And all we need is a loaf of bread, a jug of wine, and thou.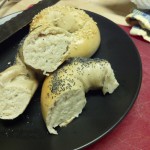 Which is just another set of reasons that I love learning about bread, and sharing what I've learned with those of you who join in on The Science of Bread and Cheese Walking Tour.
To that end, I must share the wonderful evening I had in the back kitchen of La Victoria bakery, with Mike, our teacher, and a set of dough-rolling classmates. If only I could share the bagels…
(click the pics to see bigger versions)
Sour Flour has three different bread workshops, one on starters, one on dough development, and this one about bagels. I learned a lot from the two I took, and went home with copious amounts of delicious bread dough! You can read about the workshops and sign up for them on the Sour Flour site.